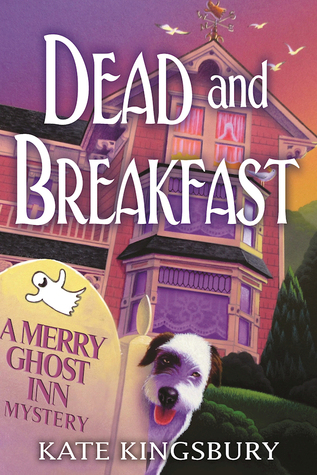 Melanie West is getting her life back on track after a messy divorce when her grandmother, Liza Harris, asks her to open a B&B with her. Together, Liza and Melanie purchase a purportedly haunted mansion on the Oregon coast and jump right into clearing out the cobwebs. But while attempting to remove wallpaper in an upstairs bedroom, the new B&B owners stumble upon a very real skeleton in their closet.
The police suspect the skeleton is that of the wife of the previous owner of the B&B, but no one in town seems to want to say much about her. As the inn owners try to juggle renovations with their own amateur investigations, their grand opening looms closer and closer--and a friendly ghost in their walls starts playing tricks. But it all comes crashing to a halt when a new body is found stabbed to death on the beach below the inn--the victim chillingly close in resemblance to Melanie herself.
It seems someone doesn't appreciate newcomers prying into the small town's past, and now it's up to Melanie and Liza to get to the bottom of these murders to save their business...and their lives. (Summary via Goodreads)
I can already tell that A Merry Ghost Inn Mystery series by Kate Kingsbury is going to be a smashing hit !!
Dead and Breakfast, the first book in the series, captures your attention and doesn't let it go.
Melanie and her grandmother become partners of a mansion that they intend to renovate and open up a Bed and Breakfast in. It doesn't seem that any work has been done in the house for a long time so they decide to start by removing wallpaper. While scrapping off the wallpaper in one of the second floor rooms, they discover a secret room with a skeleton in it.
Unfortunately thier renovations are put on hold while the police investigate. And then they are put on hold longer when another crime occurs taking presidence over their skeleton case. So Melanie and Liza decide to do some investigaing of their own.
So much going on in Dead and Breakfast and the inn hasn't even opened to the public yet. Makes you want to stay so you can see what happens when the inn is actually open and people are staying there. Are there more secret rooms ? Can everyone hear the ghost laughing ? Why is he laughing ? Who is he and is he harmless ??
Kate Kingsbury has captured my interest for sure !! I'm not "big" on ghosts but the ghost in Dead and Breakfast seems harmless and friendly.......right ??
Review by Missi S.