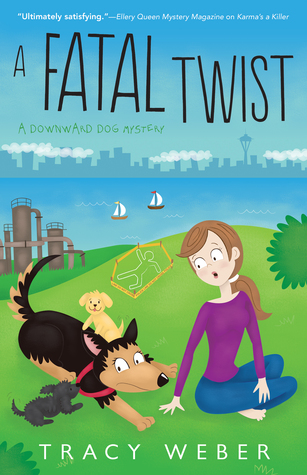 Yoga instructor Kate Davidson's life takes a chaotic turn once she agrees to not only be the doula for her pregnant best friend, but also play foster mother to two puppies. The chaos only gets worse when Kate finds the dead body of a philandering fertility doctor and Rachel, one of her yoga students, fleeing the scene.
Kate is convinced her student is innocent, and she sets out to find the real killer before her testimony condemns Rachel to a life behind bars. But her hands are full with caring for three dogs, teaching yoga classes, and gaining an unexpected crime-solving partner. If she's not careful, Kate's next yoga pose may be a fatal one. (Summary via Goodreads)
Usually people say that the first sentence was all it took for them to be engrossed in the book..... And that is usually what I would say. However in A Fatal Twist by Tracy Weber it was the LAST sentence. After I read the last sentence and closed the book, I sat back and said "Yeah it's like that." Everything came together and I was left with a calming feeling.
A Fatal Twist is the fourth book in the Downward Dog Mystery series and if you have read the first three, I think you will agree with me. Yes there is a murder, yes Kate gets herself in the middle of it, yes Michael gets upset with her, yes Kate figures it out ..... But there is a lot more going on, Tracy Weber takes it a bit further with the story by allowing the reader to get to know more of the people in Kate's life. You will learn more about Kate's best friend Rene and her husband Sam as they get ready to welcome twins into the world. Also Tiffany, Michael's employee and Kate overcome their issues and become friends.
You will continue to experience the bond between Kate and Bella and the LOVE that is there. If one of the reasons that you like this series is because of that aspect, don't worry it is there and there are puppies ! !
If I were to use one word to describe how I felt while reading A Fatal Twist and what I got out of the book, I would say ......
HOPE.
Review by Missi S.