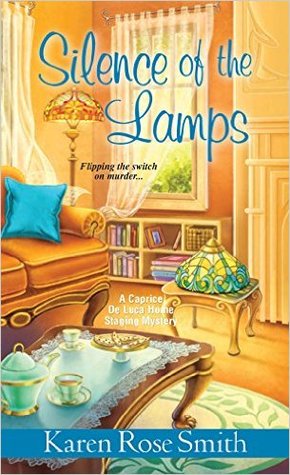 Business has never been better for home stager Caprice De Luca, but her personal life could stand a few renovations. Just when she thought things were getting serious with her boyfriend Grant, his pretty ex-wife swoops into town and nabs his attention. Uncle Dom is living with her parents and desperately needs a new job. And her sister Nikki's catering business is threatened when rival Drew Pierson starts eating away at her share of the market. Things could not possibly get more chaotic when Drew is found bludgeoned to death by one of his grandmother's antique Tiffany lamps--and Nikki is the number one suspect. Now, Caprice must act fast to illuminate the truth and clear her sister's name--before a cold-blooded killer puts her lights out next…
Praise for Deadly Décor. (Summary via Goodreads)
Silence of the Lamps is the fifth book in the Caprice De Luca mystery series. I have had the pleasure of reading each and every book in this series. I have loved each one! I believe that this one is the best. I say that because each of the characters has grown throughout the series into wonderful additions.
The author, Karen Rose Smith makes you feel like they are your neighbors and friends. The detail she writes in describing the houses that are being staged is amazing. She goes into such detail about the types of furniture and decor i can't imagine the amount of research that goes into each of these books.
Caprice's business as a home stager is growing leaps and bounds. Her sisters catering business is also doing well until Drew threatens Niki and try's to take away her clients. All of this takes place at a Bridal Expo where there are a lot of witnesses. Unfortunately Drew ends up dead and guess who finds the body? Yep, Caprice and Niki. They find him dead on the floor of his grandmothers house. Niki had gone there to finally challenge Drew but instead becomes the prime suspect in his murder. The police have told Caprice to stand down and let them handle things. We all know Caprice and know that that is never going to happen and she ends up smack dab in the middle of the investigation.
On top of all of this she thinks things are getting hot and heavy in her relationship with Grant when the bottom falls out. His ex wife shows up and Caprice can't help but reflect on her past with men and shut down. What will happen with them? Will it be Deja vu for Caprice and Grant go back to his ex or will he choose Caprice???
I loved all of the twists and turns and suspense in this book. It will have you wanting to keep reading till the wee hours saying, just one more chapter. I totally enjoy this series and can't wait to see what happens next.
Review by Penny M.