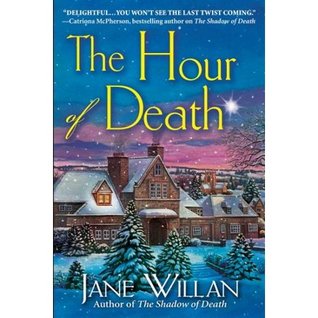 Sister Agatha and Father Selwyn make sleuthing a work of art. But will they paint themselves into a corner when they investigate the Village Art Society president's death?

As Yuletide settles upon Gwenafwy Abbey, the rural Welsh convent's peace is shattered when Tiffany Reese, president of the Village Art Society, is found dead on the floor of the parish hall. Sister Agatha, whose interests lie more with reading and writing mystery stories than with making the abbey's world-renowned organic gouda, is not shy about inserting herself into the case. With the not-entirely-eager assistance of Father Selwyn, she begins her investigation.

Sister Agatha has no shortage of suspects to check off her naughty-or-nice list, until finally, Tiffany's half-brother, Kendrick Geddings, emerges as the prime suspect. There never was any love lost between Tiffany and Kendrick, and of late they had been locked in a vicious battle for control of the family estate. But if Sister Agatha thinks she has the case wrapped up, she'll have to think again.

As the days of Advent tick by, Sister Agatha is determined to crack the case by Christmas in The Hour of Death, Jane Willan's perfectly puzzling second Sister Agatha and Father Selwyn Mystery.
(Summary via Goodreads)
Jane Willan has an amazing talent for story telling and capturing the readers attention as soon as you open the book and start reading. And her originality is off the charts !! A nun with a Father as her sidekick, a Reverend Mother who encourages one of her nuns to write a murder/mystery book and investigate murder for real, a group of nuns working together making Heavenly Gouda cheese......
The Hour of Death is the second book in the Sister Agatha and Father Selwyn mystery series and hopefully you became a fan with the first book, The Shadow of Death. If not, there is still plenty of time. If there is one thing you take away from these books is that there is plenty of time to sit back and enjoy a good book with a cup of tea. Although once you begin reading you may turn to coffee as you pick of speed with your reading. You will get so caught up in the story that you won't want to put the book down.
It also amazes me how authors twist and turn stories taking every thing and bringing it together in the end. Something so small can turn into something huge and when the realization of it hits the reader, you have to sit back and take it all in and then you have a mind-blowing moment !!! That is what Willan does !!
I was amazed and fell in love with all the characters in these books and love the setting and the atmosphere and look forward to more in this series. I encourage everyone to read these books and get lost for a while ....... you will thank me !!!!
Review by Missi S.