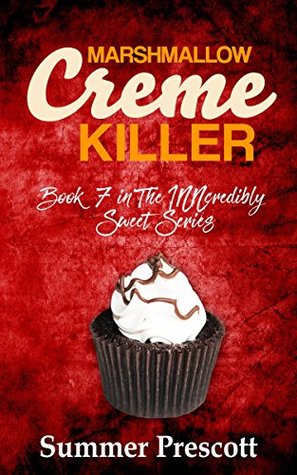 If you've enjoyed the Frosted Love Series, you'll love the continuing story of Missy, Chas and the gang after they've moved from Louisiana to Florida to run a B&B and cupcake shop.
Is Carla the Interior Decorator alive? Who is Spencer Bengal really?
On the journey through The INNcredibly Sweet Series, you've had questions…this book provides the answers. You'll be caught up in the ongoing adventures of Missy, Chas, Spencer and the rest of the gang as their story takes them to exotic locations and into scary situations. Find out the answer to many of the questions, that have kept you in suspense, in this latest installment of The INNcredibly Sweet Series, where lives and relationships will be changed forever. (Summary via Goodreads)
Marshmallow Creme Killer book seven in The INNcredibly Sweet series is another winner. All I can say is hold on to your books because you are about to go on an incredible journey.
The delicacies that Missy makes at Cupcakes in Paradise sound so good you want to eat the pages. I was drooling over the marshmallow creme cupcakes.
There are a ton of things going on in this book. I can't say much but the gang is up to solving crimes. Chas gets an urgent call and has to leave to take care of some family business. That leaves Missy and her best friend Echo alone in Calgon, Florida but they look at it as pajama parties, good food, and canine entertainment. Then Missy and Echo realize their friend Carla is missing and turn to Detective Jim Reuben to help since Chas is out of town. This causes Missy and Echo to do some detective work on their own. This could mean trouble!
Is Carla alive??? When will Chas be home? And finally who is Spencer really???
All of these questions get answered in this book. It's full of surprises and secrets! A page turner you will not want to miss.
Review by Penny M.