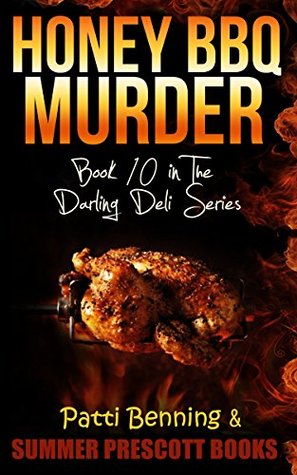 SUMMER PRESCOTT BOOKS is thrilled to present:
Honey BBQ Murder - Book 10 in The Darling Deli Series!!!
After making Darrin the manager of Darling's DELIcious Delights, deli owner, Moira Darling, has been able to enjoy some much needed time off, which means more time to spend with Maverick, David, and Candice. All is well, until she receives a tearful call from the husband of the woman who owned Keeva - the missing dog that she found in the woods behind her house. Keeva's owner has been murdered, and the husband doesn't want to keep the dog. Though she is sad for the woman who died, Moira jumps at the chance to get Keeva, the Irish wolfhound, back and drives down to Kentucky to pick her up. Keeva falls ill shortly after she arrives in Maple Creek, and Moira fears for her own life when an intruder comes to call in this latest book of The Darling Deli Series. (Summary via Goodreads)
Another great book from Patti Benning. Honey BBQ Murder is book ten in The Darling Deli Series. I have loved this series from the start. The characters have developed into a bunch of old friends. Love the relationship between Moira and David as well as how much Candice has grown into such an independent woman. The storyline is nonstop excitement cover to cover.
Moira has hired a manager, Darrin, to take over a few days a week to decrease her hours. Now she can have some downtime and enjoy her new home and spending more time with David, Candice, and Maverick. You know what they say about well layed plans! Moira gets a very surprising call from Rick Coleman, Chelsea's husband who owns Keeva. He tells her that Chelsea has been murdered and he wants her to take Keeva because he can't bear to look at her. It reminds him too much of Chelsea. He knows Moira will take great care of her. Moira jumps at the chance to get Keeva back and heads to Kentucky. When she gets there she looks thin. Rick tells her that she hasn't been eating or drinking that she is depressed.
This is when things go down hill and Moira's good luck runs out! Keeva is very sick and could be the only witness to her owners murder??? Strange things start to happen at the house when someone breaks in and ransacks it. Now she doesn't feel safe in her own home. Has she somehow gotten in the middle of something she can't get out of this time???
This cozy will make you want to read and eat at the same time. The cooking that Moira does sounds scrumptious. Looking forward to the next installment in The Darling Deli series.
Review by Penny M.