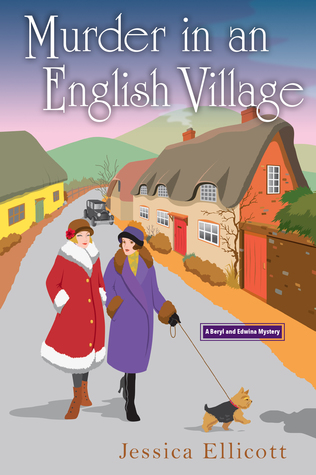 As friends, the boisterous and brash American Beryl couldn't be less alike than the prim and proper British Edwina. But as sleuths in an England recovering from the Great War, they're the perfect match . . .

1920: Flying in the face of convention, legendary American adventuress Beryl Helliwell never fails to surprise and shock. The last thing her adoring public would expect is that she craves some peace and quiet. The humdrum hamlet of Walmsley Parva in the English countryside seems just the ticket. And, honestly, until America comes to its senses and repeals Prohibition, Beryl has no intention of returning stateside and subjecting herself to bathtub gin.

For over three decades, Edwina Davenport has lived comfortably in Walmsley Parva, but the post-World War I bust has left her in dire financial straits and forced her to advertise for a lodger. When her long-lost school chum Beryl arrives on her doorstep--actually crashes into it in her red motorcar--Edwina welcomes her old friend as her new roommate.

But her idyllic hometown has a hidden sinister side, and when the two friends are drawn in, they decide to set up shop as private inquiry agents, helping Edwina to make ends meet and satisfying Beryl's thirst for adventure. Now this odd couple will need to put their heads together to catch a killer--before this sleepy English village becomes their final resting place . . .
(Summary via Goodreads)
Murder in an English Village by Jessica Ellicott takes the reader on a pleasant journey back in time....a time when things are just getting back to some kind of normalcy as a village recovers from the Great War.
We meet Edwina Davenport who has to advertise for a lodger as a result of the after effects of the war....but luckily for her one of the people who responds to the advertisement is her old friend from boarding school, Beryl Helliwell.
Edwina is having a hard time getting back in the good graces of some members of the village due to her lack of funds so Beryl goes into town and tells Prudence Rathbone, the local gossip in town, a little lie that her and Edwina are investigators working for the King and that Edwina's hardships are actually a cover for their work. Beryl herself is kind of a celebrity as her adventures are well documented in the newspapers.
Unfortunately even though it is a lie that Edwina and Beryl are investigators, someone in the village attacks Edwina the night that the lie was told. This forces Edwina to look back to when a local young girl went missing while working the fields while the men were at war and the local police didn't do much in the way of investigating.
Edwina and Beryl find themselves asking questions and looking into things when they find another local girl dead in a field and again the local police are doing very little with the case ruling it as an accident. Havinig been the ones to find the girl and look around the scene, they are certain that it was not an accident.....
Ellicott takes the reader on an adventurous journey and introduces them to some interesting characters in this quiet little English village and the twists and turns will captures the readers attention and keep it throughout this book. The reader will enjoy getting lost with Edwina and Beryl as their guides as they nagivate through the village finding justice for two young women......
Review by Missi M.