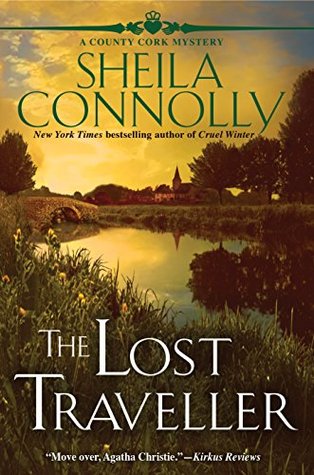 Danger comes to Cork in the seventh County Cork mystery from New York Times bestselling author Sheila Connolly, and it's up to Maura Donovan to find a way to protect all she's worked for.

Pub owner Maura Donovan is settling into a charmed life in Ireland—until a mutilated body on her property ends her lucky streak.
Boston expat Maura Donovan came to Ireland to honor her grandmother's last wish, but she never expected to stay in provincial County Cork—much less to inherit a house and a pub, Sullivan's, in the small village of Leap. After a year-long struggle to stay in the black, Sullivan's is finally thriving, and Maura has even brought back traditional Irish music to the pub. With a crop of new friends and a budding relationship with handsome Mick Nolan, Maura's life seems rosier than ever—but even in Ireland, you can't always trust your luck.
It begins with Maura's discovery of a body in the ravine behind the pub. And then, the Irish gardaí reveal that the victim's face has been battered beyond recognition. Who is the faceless victim? Who wanted him dead? And why was his body dumped in the backyard of Sullivan's Pub? Even after the dead man is finally given a name, nobody admits to knowing him. In the tight-knit world of Leap, no one is talking—and now it's up to Maura to uncover the dark secrets that lurk beneath the seemingly quiet town.
Laced with warm Irish charm, a delightful small-town setting, and a colorful cast of characters, New York Times bestselling author Sheila Connolly's seventh County Cork mystery,
The Lost Traveller
, conspires to delight. (Summary via Goodreads)
There is something about reading books in a series.....when you read them you feel like you are home. It is a comforting feeling. It's like seeing a friend you haven't seen in a while or visiting a restaurant or store you haven't been to in a while....
The County Cork Mystery series by Sheila Connolly gives the reader a warm feeling. Even with the stories taking place far away in Ireland (far away for me anyway) you feel like you are right there. I find myself so engrossed in the life of Maura and her friends at the pub that when I'm reading I'm lost in the Ireland ways......when Mick, Rose, Billy or anyone else from County Cork speaks to Maura I hear the accents.....
I love the closeness of everyone and how that took to Maura instantly. If you've read any of the other books in the series, you know what I mean. Maura who lived in Boston inherited a cottage and pub in County Cork and with The Lost Traveller, the seventh book in this series, she has been there a year. Even though she is still getting use to things, she seems to be quite comfortable.....even solving crimes....or at least helping the local police, the gardai.
In this seventh book, The Lost Traveller, you are introduced to more differences between Ireland and the United States and you continue to learn things with Maura.
I love reading books in series, especially ones that take the reader away. When I opened The Lost Traveller and started reading, I was instantly inside Sullivan's sitting next to Billy by the fire. And when Maura went back to the cottage after the pub closed, I was right there along side her. It felt like there was no time in between this book and the last one I read.
Connolly has a way of opening the reader's imagination and allowing the reader to travel to a place so far away. You get so involved in your reading you will swear you hear Mick's accent along with all the others and you will see Rose's devotion and energy as well as feel Billy's age and wisdom.
I just hope that Maura will stay in Leap and run Sullivan's for many, many more books in this series.....even though she seems to "attract" dead people. That is just one more thing you love about these books.......
So sit back with your cup of tea or pint....whichever you fancy and hang with the gang at Sullivan's..... They will welcome you with a smile............and you will be a friend for life.
Review by Missi S.