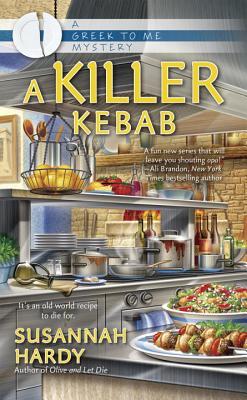 The new Greek to Me Mystery from the author of Olive and Let Die and Feta Attraction

The Bonaparte House is closed for the season, and Georgie Nikolopatos looks forward to fixing up the Greek restaurant and historic landmark—until her renovation plans hit a fatal snag.

With her divorce underway, her mother-in-law returning to Greece, and the tourists gone, Georgie finally has life under control—and the Bonaparte House to herself. She quickly hires a contractor for some much-needed renovations to reopen in time for a special Greek-style Thanksgiving meal. Georgie is suspicious though when former dishwasher Russ Riley arrives with the construction crew. He still has an ax to grind with the Nikolopatos family—but is it sharp enough to kill?

When Georgie finds the body of her divorce lawyer amid the construction debris and Russ is quickly arrested for murder, something about the case doesn't add up. While Georgie is no fan of Russ, even a bad egg deserves a crack at justice.

Includes delicious Greek recipes!
(Summary via Goodreads)
I was organizing my book shelves and came across A Killer Kebab by Susannah Hardy and couldn't believe that I hadn't read it already. A Killer Kebab is the third book in her A Greek To Me Mystery series and I LOVED the first two. I was very upset that I missed this one and hadn't read it yet......until I realized that I HAVEN'T READ IT YET....... So I sat right down leaving the book shelves more unorganized that when I started and opened the book.....
I was instantly at home with Georgie in the Bonaparte House in Bonaparte Bay. A Killer Kebab is a little different than the first two in a very big way. In A Killer Kebab the restaurant is closed for the season, as is most of the town, and there are very few people around. However, even though there are mainly locals with a few outsiders, there is still enough for a murder to occur And boy does it......right in one of the restrooms at the Bonaparte House !!!
Because it is the off season and Georgie's mother-in-law is in Greece for the winter, it is the perfect time for some renovations to be done. Unfortunately on the first day of demolation, Georgie's lawyer is found murdered in the debris......and Georgie is the one to find him....of course.
As much as Georgie wants to continue the renovations, when her cook, Dolly's, son is arrested for the murders, and even though he is a good candidate for the murders, Georgie cannot help but feel that there is more to the story and doesn't feel extremely confident that they have the right person.
Georgie piles a lot on her plate "investigating" things and when people close to her start to get hurt, she digs her heels in, puts her head down and charges full speed into the tangled mess.......
You cannot help but love Georgie for her determination and stength and even though she is a very independent person, she knows when she needs help and doesn't hesitate to ask others even knowing how dangerous things may get.
A Killer Kebab is a page-turner, make your coffee cold kind of story......make sure you are prepared when you open the book......you will be there for a while. You will not want to leave Bonaparte Bay until you know everyone is safe and sound and in for the winter.
Review by Missi S.