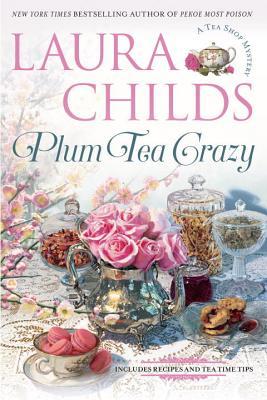 Theodosia Browning investigates a Charleston steeped in tradition and treachery in the latest Tea Shop Mystery from New York Times bestselling author Laura Childs.
While viewing the harbor's Gaslights and Galleons Parade from the widow's walk of Timothy Neville's Charleston mansion, local banker Carson Lanier seemingly tumbles over a narrow railing, then plunges three stories to his death. But a tragic accident becomes something much more sinister when it's discovered that the victim was first shot with a bolt from a crossbow.
At the request of the mansion owner, Theodosia investigates the tragedy and is soon neck deep in suspects. An almost ex-wife, a coworker, a real estate partner--all had motives for killing the luckless banker, but one resorted to murder to settle accounts.
INCLUDES DELICIOUS RECIPES AND TEA TIME TIPS! (Summary via Goodreads)
One of the many reasons that I love the Tea Shop Mystery series by Laura Childs is the confidence that Theodosia Browning, the main character, has. Halfway into the story you have this tidbit of a conversation .....
"And you'll call your friend, Detective Riley? Tell him that it would be so great if the police could kind of keep an eye on my house and my shop?"
"Of course I'll ask him," said Theodosia. "And I'm sure he'll be happy to extend a little extra protection. After all, he's been working on this case for several days now. It's a tangle, but I'm confident he'll get it sorted out."
Because if he doesn't, I'll have to figure it out myself.
And it's that last sentence that grabs you...because you know that that is exact what will happen !!
Theo has this way about her that people are drawn too. Maybe because she owns the Indigo Tea Shop and tea is seen as a relaxing and enjoyable drink, or maybe because she has a way of seeing people differently than others view them, or maybe it's because she's done it in previous books. But whatever the reason, even if you are just reading Plum Tea Crazy as your first Laura Child's novel or it's your first Tea Shop Mystery series book, you will draw the same conclusion...... Theo is someone you want on your side and in your corner.
And Laura Childs is a no-nonsense author just like Theo is a no-nonsense main character. Within the first chapter of Plum Tea Crazy the stage is set !! The murder has occurred and the list of suspects is already growing !!! And Theo and her dapper side-kick, Drayton, are first on the scene....well they are at the party because they are catering the event but still.....
And the story stays strong throughout the entire book. From just hanging around with Theo and gang at the Tea Shop preparing teas, you never know who will interrupt or what will occur to Theo trying to obtain information from her boyfriend, Detective Riley without tipping her hand in the knowledge that she has learned and other little thing in between.
You will love Theo, Drayton and the Indigo Tea Shop as well as the circumstances surrounding the murder and I believe that you will be just as shocked as I was when you find out who the actual murderer is and why !!! Childs and Theo have you so focused on certain people that when Theo finally does revel the actual guilty person, you will be stopping to catch up !!!
And don't stop there....make sure you read the recipes and the helpful tea time tips at the end of the story. I, for one, plan to try some of the yummy recipes !!!
Review by Missi S.