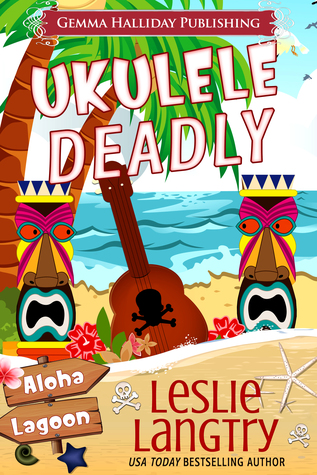 From USA Today bestselling author Leslie Langtry comes the next Nani Johnson adventure in paradise...
Ukulele player Nani Johnson is just starting to put the past behind her and settle in on Kauai with her loveable but crazy Mom, her hot new boyfriend, and regular gigs at both the Blue Hawaii Wedding Chapel and the Aloha Lagoon Resort. But unfortunately her island life proves anything but relaxing when a man carrying ID that says he's from Nani's hometown dies in front of her. Now it looks like Nani and her mother are the main suspects.
Things go from bad to bleak in paradise as Nani's mom starts acting even odder than usual, there's a mutiny involving snakes at the Blue Hawaii Wedding Chapel, and more bodies inconveniently pop up near Nani. Can Nani stay out of jail long enough to unmask the real killer…or will the police pin it all on her?
The Aloha Lagoon Mysteries:
Ukulele Murder (book #1)
Murder on the Aloha Express (book #2)
Deadly Wipeout (book #3)
Deadly Bubbles in the Wine (book #4)
Mele Kalikimaka Murder (book #5)
Death of the Big Kahuna (book #6)
Ukulele Deadly (book #7)
Bikinis and Bloodshed (book #8)
Death of the Kona Man (book #9)
Lethal Tide (book #10)
About Aloha Lagoon:
There's trouble in paradise...
Welcome to Aloha Lagoon, one of Hawaii's hidden treasures. A little bit of tropical paradise nestled along the coast of Kauai, this resort town boasts luxurious accommodation, friendly island atmosphere...and only a slightly higher than normal murder rate. While mysterious circumstances may be the norm on our corner of the island, we're certain that our staff and Lagoon natives will make your stay in Aloha Lagoon one you will never forget! (Summary via Goodreads)
Not one ....or even two murders but three !!! And Nani Johnson is found standing over ALL three of them !!! Wow Leslie Langtry sure knows how to bring the heat to the Aloha Lagoon Mystery series !!
Ukulele Deadly by Leslie Langtry is the seventh book in this series and even though I am not reading them in order, I am not missing a thing !!
In Ukulele Deadly you are hanging around with Nani Johnson. She plays the ukulele, teaches lessons, plays at the Aloha Lagoon Resort and the Blue Hawaii Wedding Chapel, hangs out with her boyfriend Nick and trys to keep tabs on her somewhat crazy mother. Her life on the island is not paradise but to her it is pretty nice !! That is until one night she is walking back to her car after picking up dinner from the Loco Moco Cafe and comes across a man lying on the ground behind her car. Within seconds the man dies and Nani seems to be the main suspect. And when they find out the deceased is from her hometown in Kansas, it's almost an open and shut case.
Lucky for Nani she calls her cousin Andy who still lives in Kansas to see if he may know the deceased man whose ID says he is Ed Hopper. Fortunately Andy does know him and he is still alive and is the new police office in town.
Andy and Ed hop on a plane see what is going on and try to find out who the deceased "Ed Hopper" really is. When a singer who works with Nani is the second person killed and again Nani is standing over the body, she decides to look into these deaths. So along with Nick, her friend Binny and her cousin, Nani tries to solve the murders and clear her name.....which isn't easy considering everyone on the island seem to think its cool and she's even been given nicknames and someone is selling t-shirts.....
You cannot help but continue to fall in love with Aloha Lagoon, the island and the residents and workers even if people are dying.... because you know that when you get to the end of one of these books, the murders will be solved and you will have made new friends and your stay at Aloha Lagoon Resort will be extended when you pick up another in this series......
Review by Missi S.