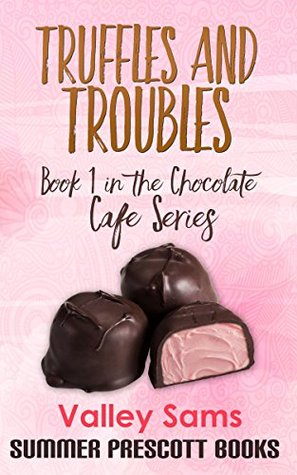 SUMMER PRESCOTT BOOKS announces the spectacular debut of mystery author, Valley Sams, who has written a masterpiece of Culinary Cozy perfection!!!
Presenting: Truffles and Troubles - Book 1 of The Chocolate Cafe Series...
After the death of her beloved grandfather, Catharine "Mac" Mackenzie opens a chocolate shop in her sleepy little New England bayside town with her best friend Sabrina. Things are going well for the daring duo, until Sabrina's landlord, one of the wealthiest women in town, is murdered. Toss in a British detective with a wicked sense of humor, a shudder-worthy encounter with a childhood friend, and you're in for a delectable mystery experience that'll have you on the edge of your seat! (Summary via Goodreads)
An amazing new series! Truffles and Troubles is book one in the Chocolate Cafe series by Valley Sams. I enjoyed the storyline and characters so much that I couldn't put it down. I read it in one sitting and be warned that housework and cooking will not be done till you are finished. LOL It is a great mystery full of excitement and yummy Chocolate. A page turner not to miss. Already looking forward to book two.
Catherine Mackenzie (Mac) and her best friend Sabrina (Brie) have known each other for over 17 years. Brie owns the most delicious store in Mackenzie Bay, a Chocolate Shop! Brie calls herself "Wonka " when she is making her yummy surprises.
Mac has come back to town because her beloved grandfather has died. He was her only guardian since her parents died. She has been helping Brie in her shop to keep herself busy. Things kinda get crazy in town when Victoria Dunleavy and her fiancé are found shot in Victoria's mansion. Mac can't help herself when it comes to a mystery. She calls herself Nancy Drew. Brie is not happy having her friend in harms way investigating. There is just no stopping her! She can't even be deterred by handsome Detective Louis Stocker who by the way has an English accent to drool over just like chocolate!
Will Mac be able to stay out of the line of fire or will she have to be rescued before she is the next victim???
Review by Penny M.